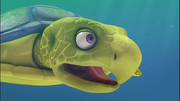 Mrs. Archelon is a large female Archelon. She had just laid her eggs on the Big Pond Beach and was resting in the water eating squid. She meets up with her babies and was impressed with her brood. She told the Pteranodon family that it is safer for the babies to stay closer to shallow water than for to take them out to deeper water. She leaves her babies and heads out to sea.
Ad blocker interference detected!
Wikia is a free-to-use site that makes money from advertising. We have a modified experience for viewers using ad blockers

Wikia is not accessible if you've made further modifications. Remove the custom ad blocker rule(s) and the page will load as expected.