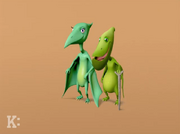 Grandma and Grandpa Pteranodon are the grand parents to Buddy, Tiny, Shiny and Don. They are the parents of
Mr. Pteranodon
. They know Mrs. Conductor when she was running the train and Mr. Conductor when he was a child. They had the first Fishwich on the Dinosaur Train when the dining car opened.  Grandma and Grandpa Pteranodon originally lived at
Pteranodon Terrace
, but sometime in they left and moved to
Pteranodon Trail Station
on the Eastern Continent of Appalachia.
Grandma Pteranodon
Grandma Pteranodon looks a bit like Shiny. She likes keeping a few things from her son Mr. Pteranodon. She is a good fisher. Her beak is curved like Shiny's.
Grandpa Pteranodon
Grandpa Pteranodon looks a bit like Don but his lower beak has an upward curve. He says La la Lou. He likes to eat bugs, and collect things like Don. He is also plump and a little shorter than his wife.
Ad blocker interference detected!
Wikia is a free-to-use site that makes money from advertising. We have a modified experience for viewers using ad blockers

Wikia is not accessible if you've made further modifications. Remove the custom ad blocker rule(s) and the page will load as expected.