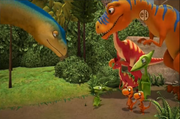 Alan is a
Alamosaurus
from
The Big Pond
. Nothing much is known about him except he appeared as a Cave the Dad's and the kids hid under during the rain. He allowed the kids to ride on his back while heading back to the train station.
Ad blocker interference detected!
Wikia is a free-to-use site that makes money from advertising. We have a modified experience for viewers using ad blockers

Wikia is not accessible if you've made further modifications. Remove the custom ad blocker rule(s) and the page will load as expected.